How to download Company Balance Sheet from MCA website
GST Doctor Pro Version is on sale. Purchase once and enjoy lifetime access with free updates, click topurchase

Many a times, during GST Audit, Preventive or gathering GST Intelligence, we need a company's financial documents such as Balance Sheets, Profit and Loss account, Director's report, Auditor's report etc.
In case of Public Limited company, the financials will be available online on the company's web page usually in Investor Relations section. For Private Limited companies such records are not publicly available but they can be downloaded from MCA website by paying a small fee of Rs. 100/- per year per company.
To download the records of Private Limited Companies using Ministry of Corporate Affairs MCA website, follow the steps given below-
Step 1: Open Ministry of Corporate Affairs MCA website
Step 2: In the menu bar go to MCA Services > Document Related Services > View Public Documents. direct link:
Step 3: Search the company using various parameters such as company name, company CIN/FCRN, company registration number, country of origin, state etc.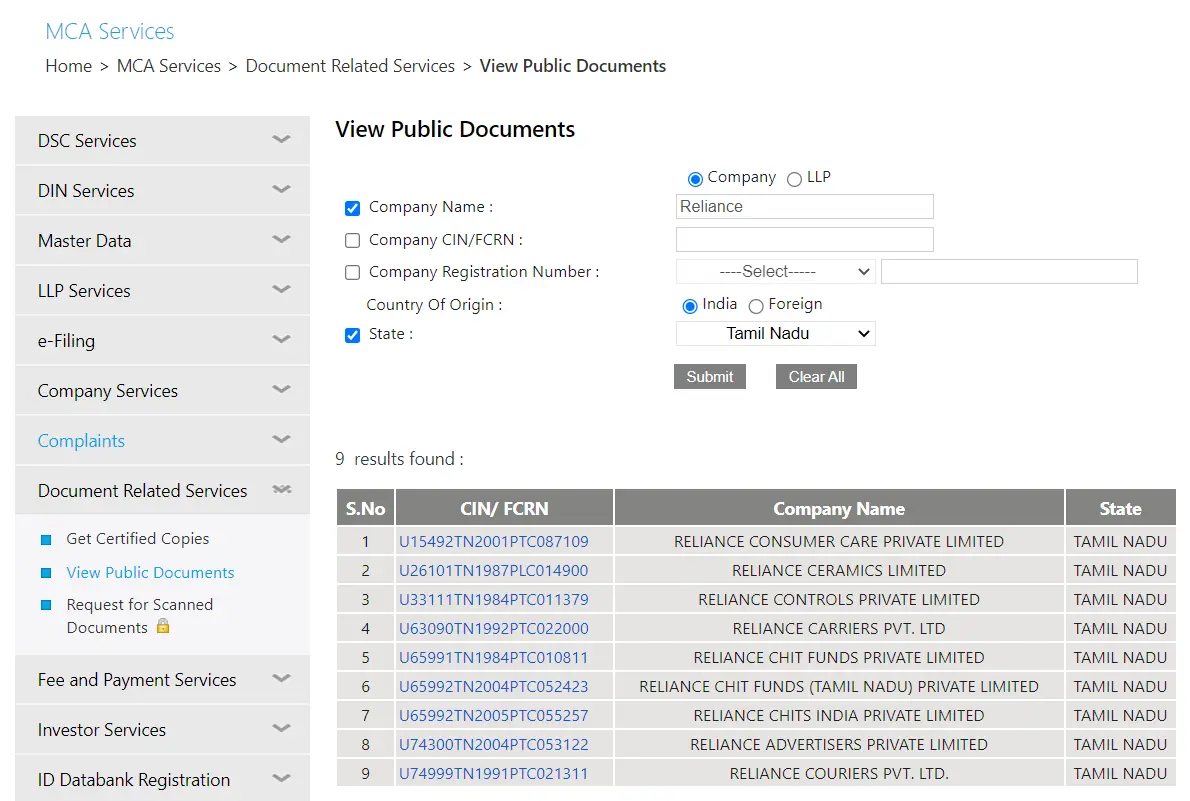 Step 4: Click on the company from the list of companies populated after the search
Step 5: Now on next page you need to select Document Category and Year of Filing.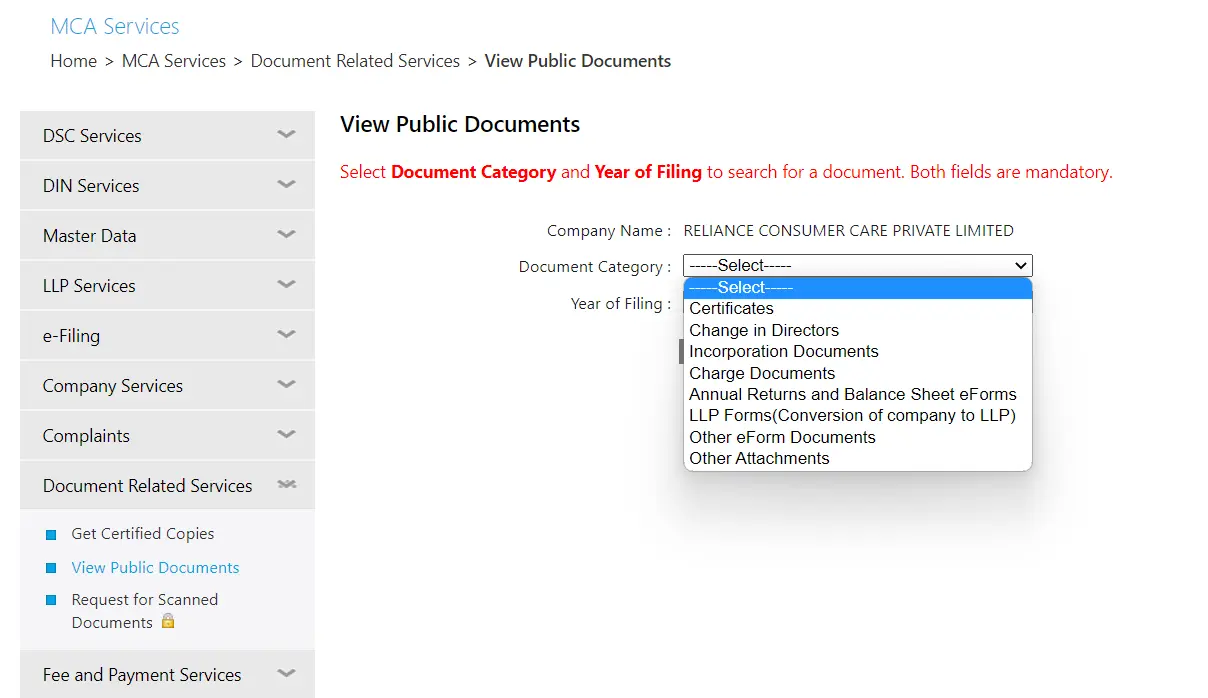 Select "Annual Returns and Balance Sheet eForms" as Document Category and choose the desired year of Filing and click Submit.
Step 6: After that you will see Document Name and Date of Filing. It will show MGT-7 and AOC-4 and few other documents.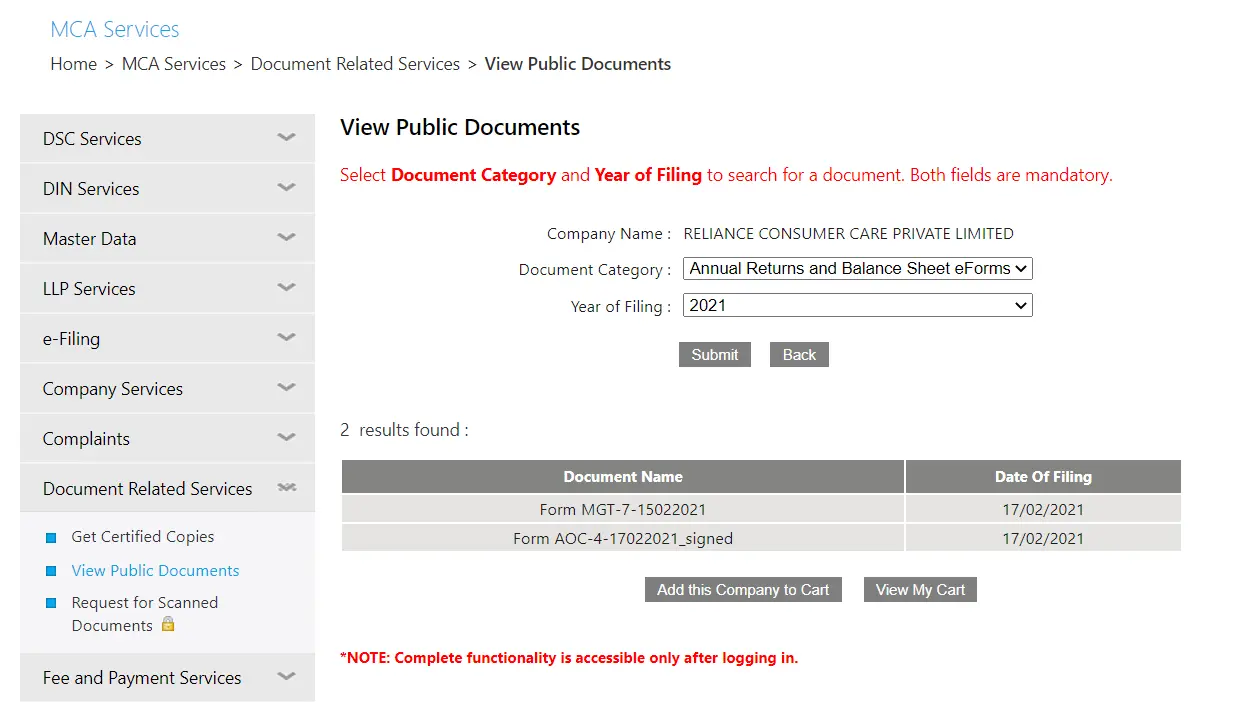 Click on add to cart. If you are not logged in, the website will ask you to login/register.
Step 7: Complete the Login/Registration process and once again add the documents to cart and make the required payment of Rs. 100/-.
Step 8: After that Login to MCA website again if required and click on "My Workspace" in menu bar. On this page go down to the documents section to see the downloaded documents.
Please download the documents immediately as they expire after some time.
Step 9: Open both the Documents MGT-7 and AOC-4 in Adobe Reader and click on attachment symbol to see the attachments. The Balance Sheet and other Financial documents will be available as pdf in the attachment in those documents.
Step 10: In case attachments are in xml format, you need to download and use MCA XBRL Validation Tool to convert it into readable format. The tool is available at MCA Website or Other Source
Disclaimer: All the information on this website is published in good faith and for general information purpose only. Any action you take upon the information you find on this website (gstdoctor.com), is strictly at your own risk.
Comments

feith lee on Wed Jul 19 2023
Once we try to put them in cart, it asks for login, but when we click to login, the page gets invalid and does not respond. If I try to login first and then click on view public documents, it automatically logs out. Please suggest how to download annual returns if this is the case.

Milan Tiwari on Wed Jul 19 2023
On MCA website these issues are common. In my experience almost 50% of the times it does not work as intended. So you have to keep on trying at regular time intervals and it will work one of these times. In case it is urgent and you can't wait, I would suggest you to use https://www.tofler.in Also, first balance sheet is provided for free on tofler after you create a new account.